Outliner Software For Windows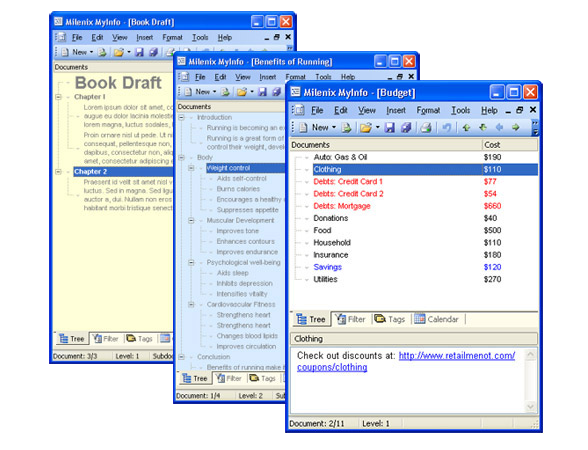 Outlining has never been easier. MyInfo is two-pane outliner for Windows, but can easily serve as a classic, one-pane outliner from the good old days. Download your trial today and start outlining your ideas.
Highlights
Style your outline You have full control over your outline appearance. You can change the font, font size, color, and font effects for each item in the outline.
Multiple columns MyInfo is the first outliner for Windows, which allows you to create your own tree columns of different types - dates, number, pop-up lists or plain text.
Notes, comments and tags Write additional text for any item in the tree with pictures, rich formatting and tables. Comment and tag items.
Attachments Embed spreadsheets, PDF documents or any other files in your outline.
Search Easily search for any text in the outline.
Filter Filter outline items and group results.
Clones Insert an item in multiple locations of the outline.
Templates Your outlines can be saved as templates, which can later be used as starting points for new outlines. Templates preserve everything about an outline, including its content, its styles, and its document preferences.
Export Your outlines can be exported as plain text, rich text, CSV, HTML, or you can write your own custom export plugin.